ABOUT CHOWA KOGYO
Message
We, CHOWA KOGYO CO., LTD. developed our original piling technologies and know-how since its establishment.
Our spirit of management policy, "Continuous Challenge of product development and Social Action by enriching our business", continues to live on today.
Amidst the rapid progression of the world's civil engineering and construction industry, we, as "A Leading Company of Vibro Hammers", are always evolving our technologies and propelling the development of new Piling Methods.
Our products are created by the company professionals, using our proven technologies and wealth of know-how which were accumulated through vast experience.
Our goal is to make a significant contribution to a society which can offer people greater peace of mind.
To achieve our goal, we step up our efforts and push forward confidently by keeping our corporate motto "Maintain a harmonious balance of People, Technology and Environment" in our mind.
Chief Executive Officer Nobuhiro Nakajo
Company Profile
Name
Chowa Kogyo Co.,Ltd.
Address
5th Floor,Shin-Osaki-Kangyo Bldg,1-6-4,Osaki,Shinagawa-ku,Tokyo,Japan
Phone
+81-3-3779-7871
Fax
+81-3-3779-7870
E-Mail
info@chowa.co.jp
Established
24th June,1985
Capital
47.3 mililion yen
Fiscal year-end
30th,April
Main Bank
Mizuho Bank
Mitsui-Sumitomo Bank
Resona Bank
Web site
https://www.chowa.co.jp/
Location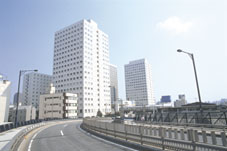 History
1985
Founded as "CHOWA KOGYO CO.,LTD." in Minato-ku, Tokyo,Japan
Capital 10 million yen
1988
Established Osaka Branch in Suita-Shi,Osaka,Japan
1991
Capital increased to 22 million yen
1994
Company Head office relocated to Shinagawa-ku,Tokyo,Japan
1997
Set up Osaka factory
Osaka Branch relocated to Settsu-shi,Osaka,Japan
2001
Acquired ISO9001 certification
2004
Osaka factory relocated to Nishiyodogawa-ku,Osaka,Japan
Capital increased to 44 million yen
2009
Established Nagoya Branch in Kanie-chou,Amagun,Aichi,Japan
2015
Capital increased to 46 million yen
2016
Capital increased to 47.3 million yen
Line of Business
Designing,Manufacturing,Sales and Repair of Construction Machinery and Industrial Machinery(Vibration Hammer etc.)
Consultant and Rental Business of Construction Machinery & Industrial Machinery.
Designing,Manufacturing,Installation,Repair and Maintenance of Control Equipment.
Designing,Manufacturing,Installation,Repair and Maintenance of Ground Improvement Plants & Equipments and other Steel Structures.